Date Of Birth: December 17, 1929
Date Of Death: March 11, 2012
---
Alma's tribute is brought to you by: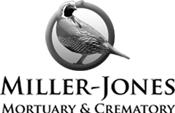 Miller-Jones Mortuary, Sun City
26770 Murrieta Road
PO BOX 1077 HEMET CA 92546
Sun City, CA United States
92586
Alma Ceclia Peters, age 82 years formerly of Sun City, California passed away Sunday, March 11, 2012. Among her survivors is her son, Dan Peters, of Sun City.

Services are pending with arrangements entrusted to Miller-Jones Mortuary Sun City.